NASA Space Shuttle Display
at Houston Hobby Airport
Inside the Hobby  Airport, terminal, the National Aeronautics and Space Administration (NASA) has installed a model of the International Space Station.
The model is displayed over a scale-model football field, in order to illustrate the massive size of the orbiting habitat. Flags of the participating countries surround the football field.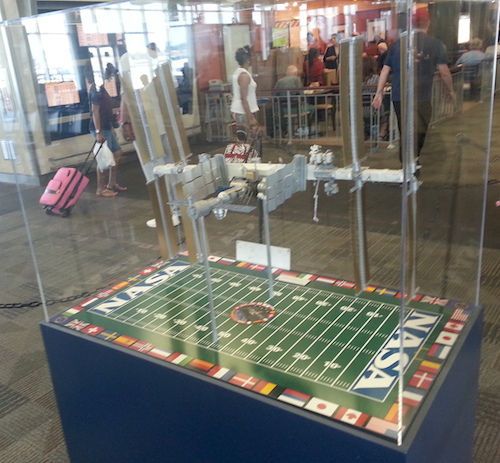 The first module of the International Space Station was launched in 1998, and new modules and capabilities have been continually added since then.
The station typically accomodates a crew of six astronauts, who conduct scientific experiments and maintain the structure. As an international venture, astronauts from 14 countries have visited the International Space Station.
Nations participating in the Space Station project include: United States, Canada, Japan, England, Russia, Belgium, France, Switzerland, Netherlands, Norway, Sweden, Spain, Germany, Italy, and Denmark.